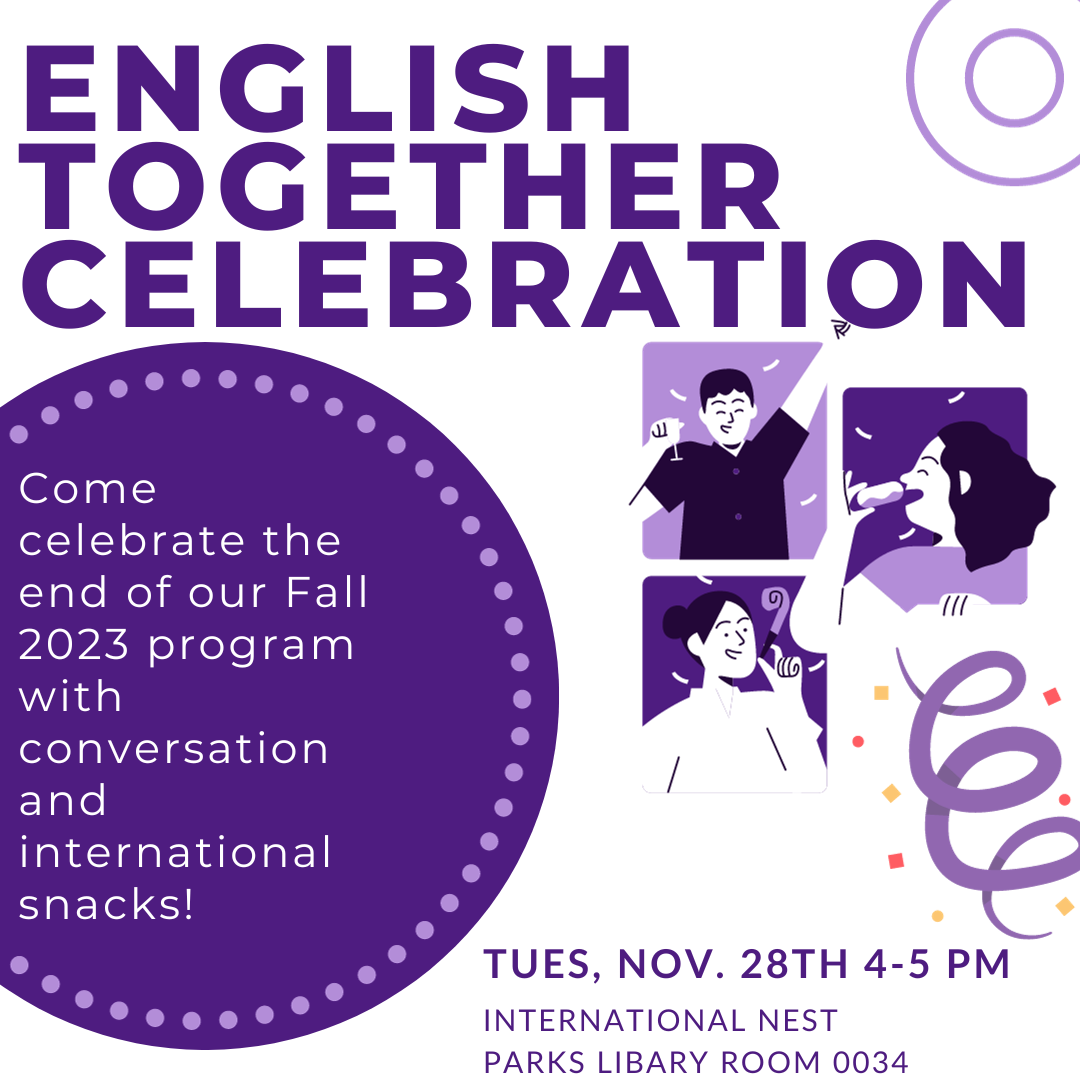 English Together Celebration!
When: Tuesday, November 28th, 4:00-5:00 PM
Where: International Nest: Parks Library Room 0034
What: Come celebrate the end of our Fall 2023 Program with conversation and international snacks! We will be having our Conversation Leaders from the semester and all students & community members are welcome!
No registration required! Drop in!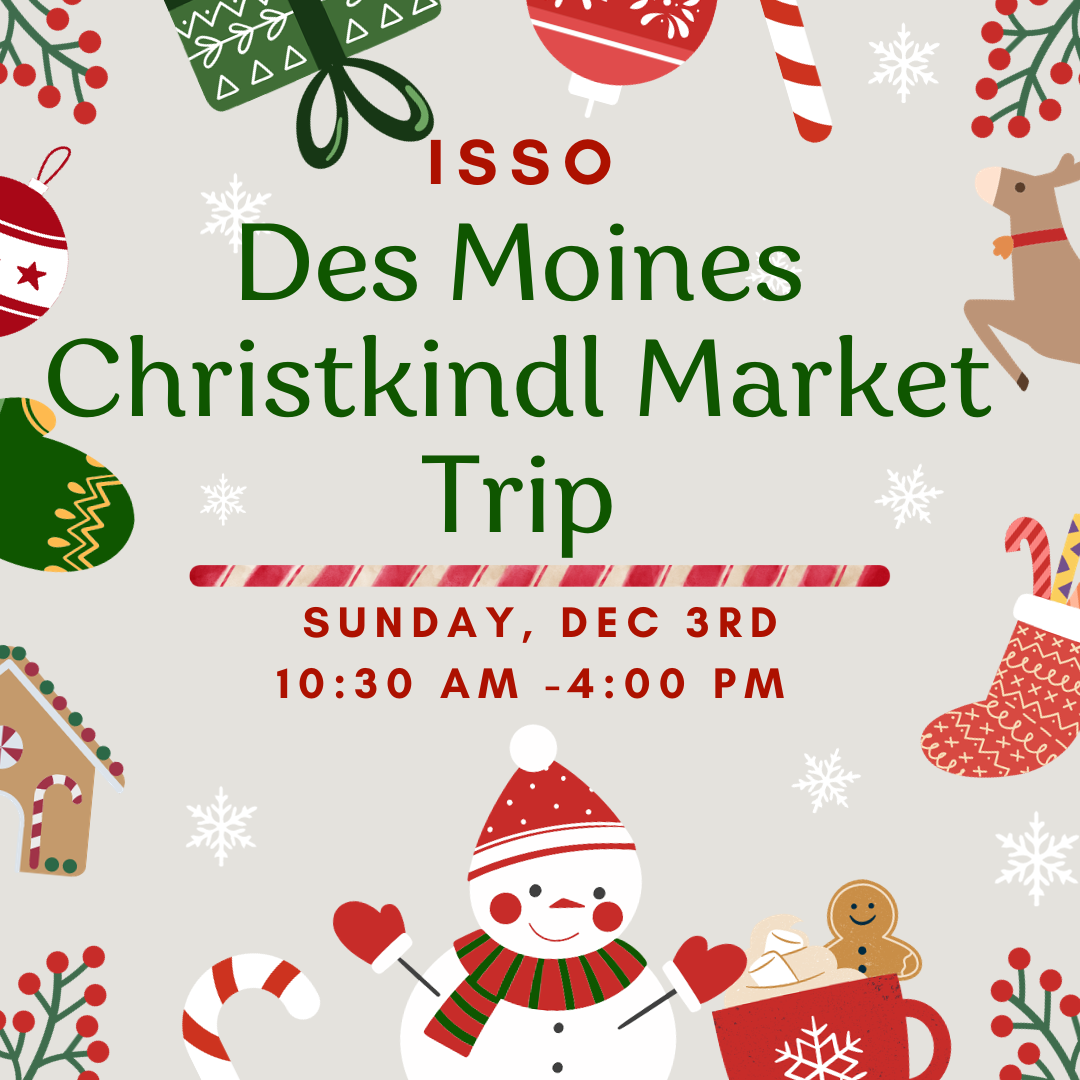 Des Moines Christkindlmarket Trip
When: Sunday, December 3rd 10:30 AM - 4:00 PM
Where: Principal Park, Des Moines
What: Christkindlmarket in Des Moines is a German-inspired Christmas market with European-style foods, products and activities. They have regional vendors selling crafts, European foods from traditional wooden stalls, an entertainment area where polka bands, choirs, and bell ringers can perform and more!
Register HERE space is limited.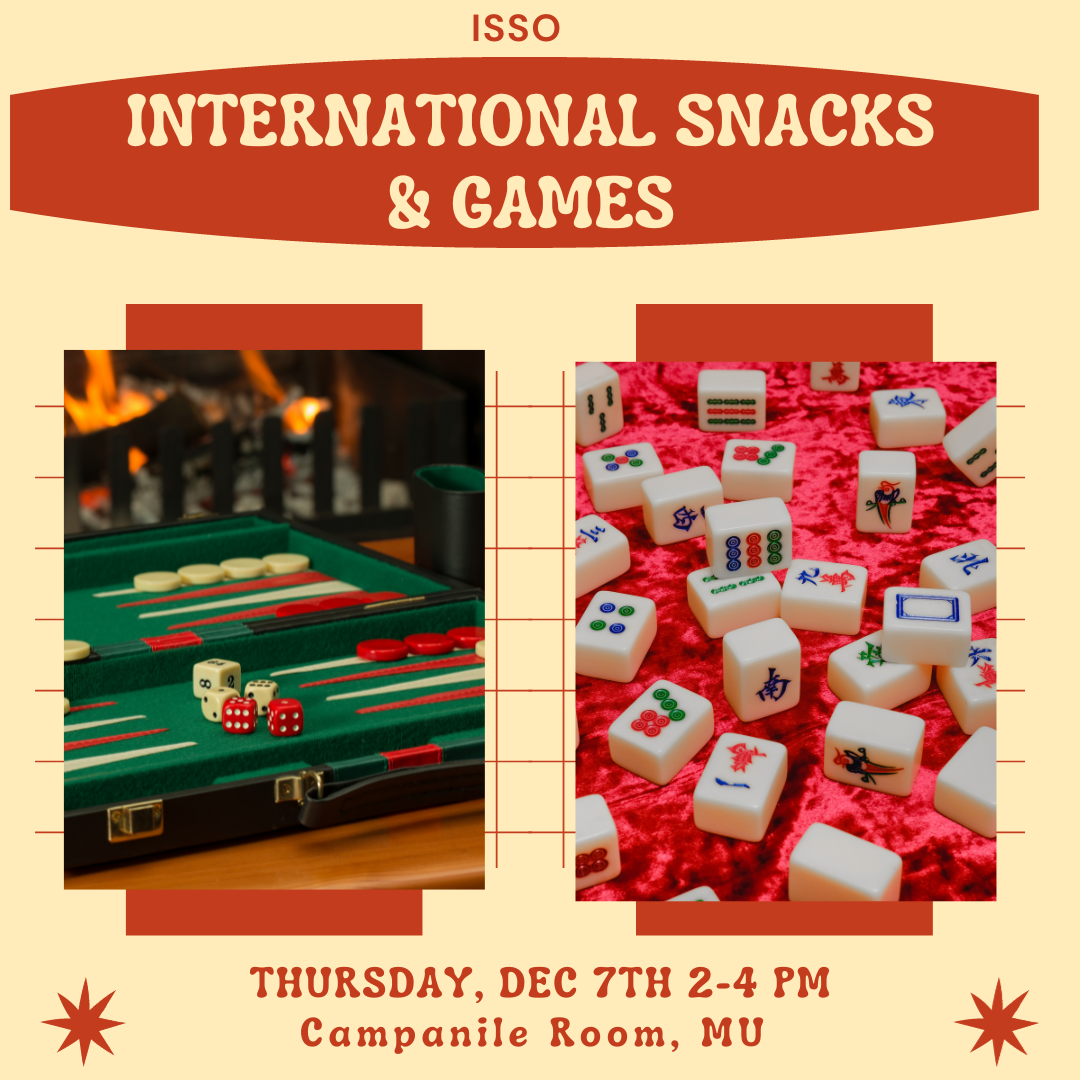 International Snacks and Games Social
When: Thursday, December 7th 2:00 PM - 4:00 PM
Where: Campanile Room 
What: Take a break from studying this week and join ISSO for an afternoon of international games and snacks! We will have Mahjong, Jaipur, Backgammon, Ludo, and more! We'll also have our other games including a station to play Pictionary.
Register HERE!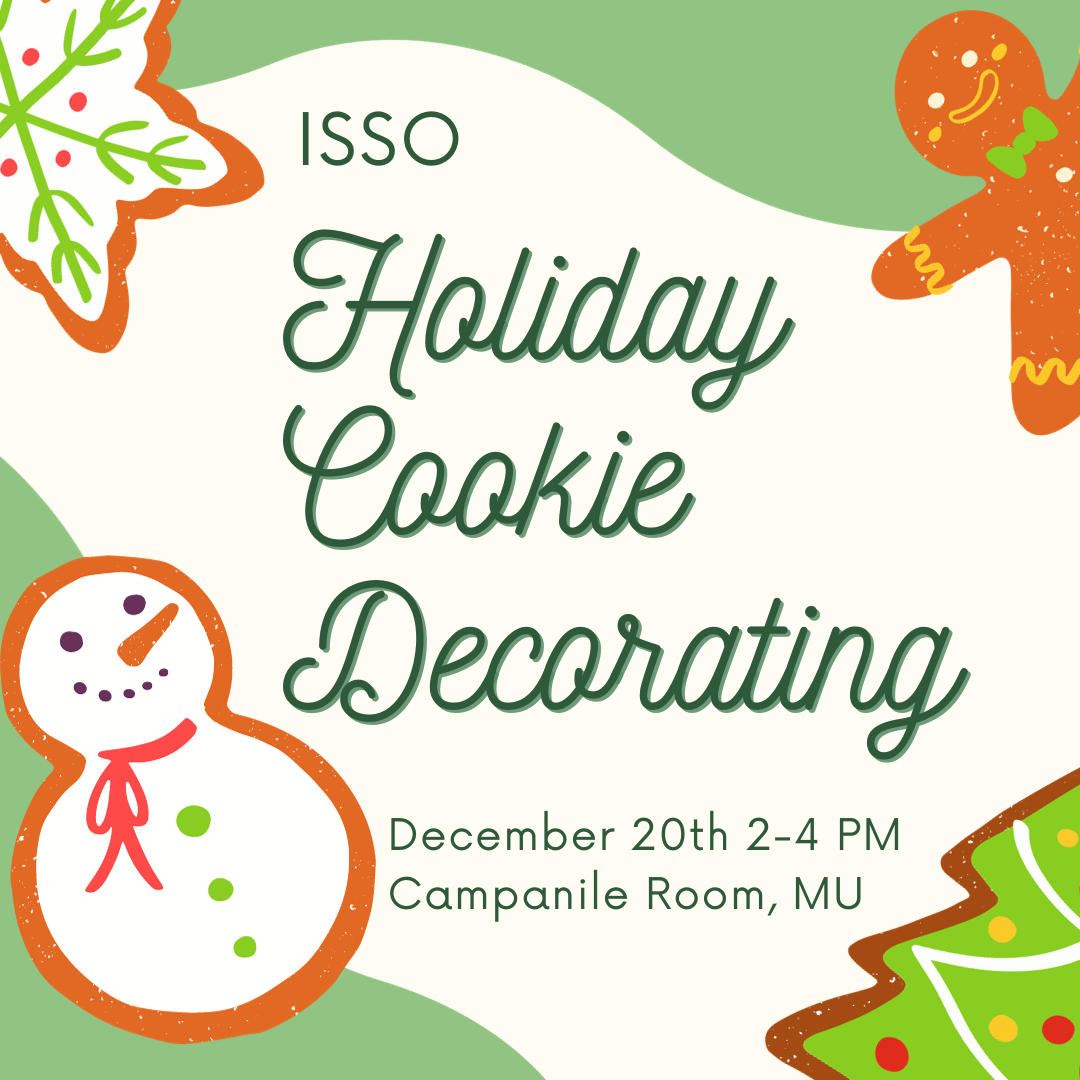 ISSO Holiday Cookie Decorating
When: Wednesday, December 20th, 2-4 PM
Where: Campanile Room 
What: Join ISSO for a fun Holiday tradition over Winter Break! Decorate sugar cookies with frosting and sprinkles, drink some hot apple cider or hot chocolate, and listen to some holiday music! All materials for the cookie decorating and additional snacks will be provided. We look forward to seeing you all there!
Register HERE

Winter Wonderscape at Reiman Gardens
When: Saturday, December 23rd 6:00 PM
What: Enjoy a walk through of Reiman Gardens' Winter Wonderscape Holiday Light Show! This event is an outdoor walk-through holiday light show featuring brightly lit tunnels, disco balls, a fountain of lights, and more immersive light displays! Spots are limited to 20 ISU students. (must have ISU student ID to receive a ticket.)
Register HERE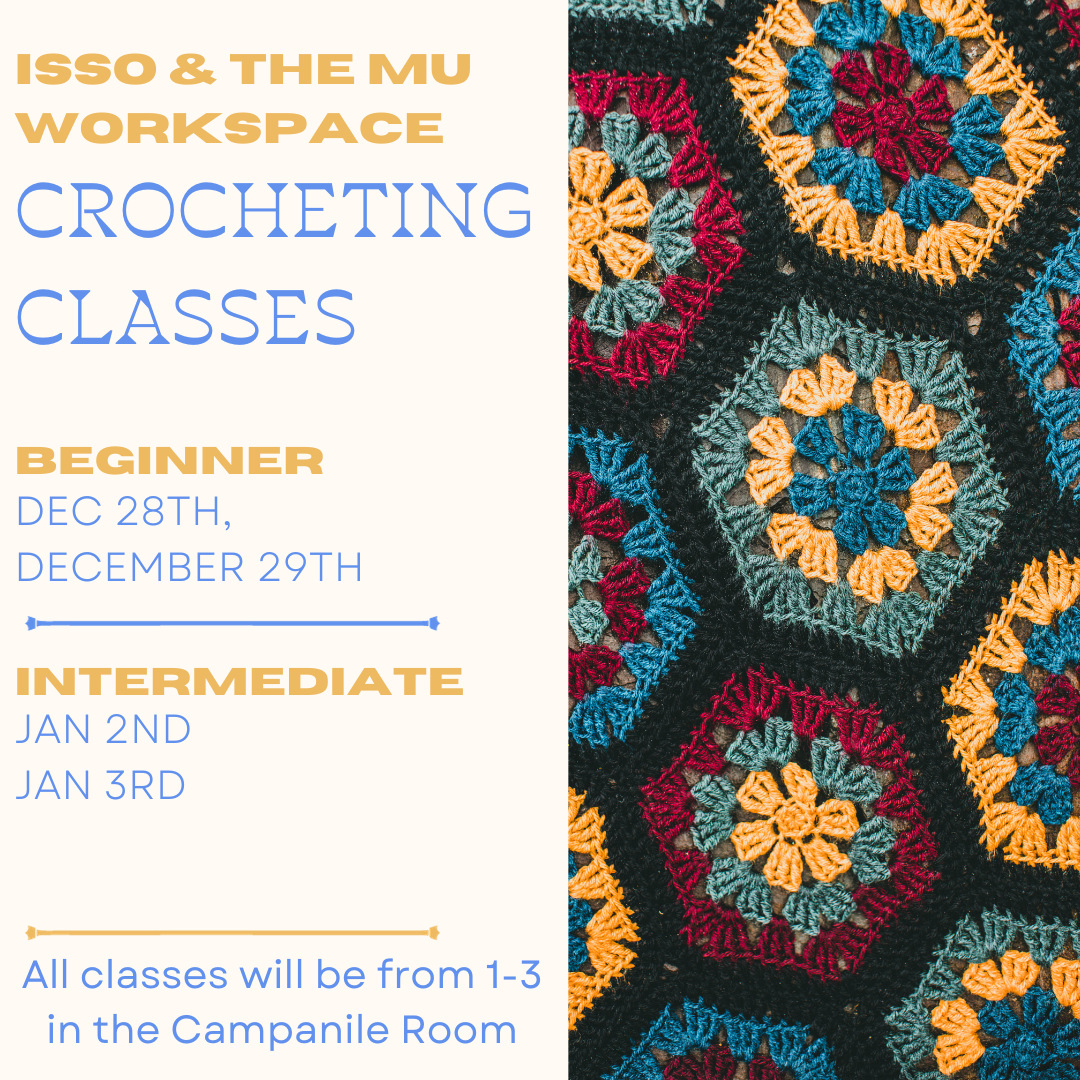 Crocheting Classes with ISSO and the MU Workspace
When: 1-3 PM, Campanile Room
Beginner Classes:
Intermediate Classes:
What: Looking for a new hobby to get into over the winter break? Join us and learn how to crochet with the MU Workspace. At each class, the instructor Erin McCollum will go over the basics, and then give you a few projects to choose from. 
Materials will be provided. Light snacks and refreshments will be available. 
Register HERE